Third-party certification is an extremely important part of our industry. It gives peace of mind that a chosen manufacturer's products have been responsibly determined to comply with industry standards. Third-party certification indicates that a product has been certified by an independent, accredited testing laboratory to comply with specific standards for safety, quality, and performance.
This can help prevent a range of unfortunate incidents for consumers as well as any possible litigation for manufacturers. As a wire and cable manufacturer, third-party certifications demonstrate that you've taken the right steps to ensure your customers are getting both safe and effective products. It tells your customers that you are a responsible manufacturer that they can rely on for consistent quality and performance.
What is a NRTL?
A Nationally Recognized Testing Laboratory (NRTL) is an independent third-party laboratory recognized by the United States Occupational Safety and Health Administration (OSHA) to test and certify products to applicable product safety standards. OSHA requires NRTL approval for many kinds of electrical equipment when they are used in the workplace. Test standards determined to be appropriate for use under OSHA's NRTL Program include ANSI, IEEE, NEMA, CSA, and UL standards. Here's a current list of NRTLs.
Liberty AV takes pride in ensuring our cables are tested, certified, and meet the required specifications to provide the highest quality of cables that operate safely and at peak performance. Liberty's quality always meets or exceeds the standards set forth by NRTLs, including Underwriters Laboratory (UL) and Intertek (ETL).

Third-Party Certification Marks
The two labs - UL and ETL - provide very similar product testing services, and both are certified NRTL. The UL and ETL marks prove that the product has met the minimum requirements of established and accepted product safety standards, and that the manufacturer agrees to periodic inspections verifying continued compliance with the standards. However, it is not uncommon to see cables containing false certification marks.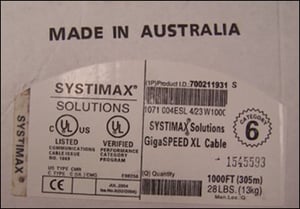 As you can see in the example, the counterfeit communication cable contains two labels attached to its packaging – UL Listed and UL Verified. Let's take a look at what these labels mean.



UL Listed

When a product is marked as "listed", it means that it has been tested for safety. A 'UL Listed' seal means that the product has been tested by UL to nationally recognized safety and sustainability standards. It also means that the product has been found to be free from a reasonably foreseeable risk of fire. Consumers know that a listed mark means the product has been tested by an NRTL and meets the minimum requirements of national product safety standards for its particular product category. The mark also represents the manufacturer's agreement to routine audits to assure continued compliance.
UL Verified

UL verification is an objective, science-based assessment that confirms the accuracy of marketing claims. For cables, a UL "verified" mark is used to indicate electrical transmission performance.
What are Counterfeit Cables?
Fake cable manufacturers save money by using low quality materials to produce cables, and many even go as far as trying to deceive customers with false certification marks. They are often labeled with the name of a legitimate company and then sold at a fraction of the real cost. On the other hand, a cable might be properly identified as coming from a given manufacturer, but it can be falsely labeled as complying with industry standards and be marked as certified by a third-party testing laboratory (e.g., using UL or ETL marks), providing a deceptive claim.
Counterfeit cables may also include misleading or false claims, such as being "plenum rated". To be UL listed, both plenum- and riser-rated cables must pass stringent fire safety tests. These tests are aimed at reducing the spread of fire and heavy smoke that can prevent safe evacuation in the event of a fire. However, testing has shown that counterfeit cables marked as UL Listed don't always meet the requirements.
UL fought back against counterfeiters in 2010 by requiring holographic certification labels on cable reels and boxes. But what are the risks associated with specifying, purchasing, or installing counterfeit cables?
Risks of Counterfeit Cables
A counterfeit cable will likely fail to meet industry performance and physical construction standards, ultimately causing poor network performance, invalid system warranties and could potentially damage active equipment.
Even if you weren't aware that the product was counterfeit, installing a counterfeit cable could result in significant legal ramifications. Using counterfeit cable is a building code violation that can result in costly cable replacement, potential lawsuits or misdemeanors with significant fines. In the worst possible case, an installed counterfeit cable may end up worsening a fire, resulting in property damage or loss of life.
Validate Your Cable's Certification
Both UL and ETL have a file number that must be listed on the cable as traceability to the certification. You can look these up in their respective sites to validate the cable as being certified. By entering a UL number, you can verify the safety status of the product it represents. However, it is best to look up the company name versus the individual file number.
With UL Product iQ, you can quickly find specific information about UL certified products and components. The UL Product iQ directory is designed to be a helpful resource for corporate entities, but individual consumers may also access the database. There is no cost for basic searches, but more advanced search tools require a paid subscription.
More Copper Means Better Signaling Performance
As with any electrical signal, more copper means better signaling performance. With the increased cost of copper, many competing cables are shaving copper (and therefore performance) in an attempt to reduce costs. The minimum diameter permitted by UL in their UL758 standard for Appliance Wiring Material is 0.485mm for 24 AWG.
However, we've frequently comes across cables marked as UL-certified that have 0.475mm or smaller conductor diameter. If the copper conductor is not compliant, this should raise concerns about the product's overall construction and specifications.
At Liberty, we will never shave copper (or our standards). Liberty products are built for the project at hand and performance / conductive demand, including copper gauge required for the job. Cable datasheets are always available for review at our website, highlighting all cable specifications. All of Liberty's cables are comprised of Oxygen Free Copper or ASTM annealed copper. Both copper variations are laboratory tested and produce equivalent, solid performance.
Holographic Certification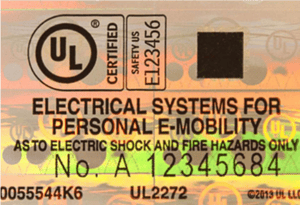 UL changed its labels to a metallic holographic label to help manufacturers distinguish products, give retailers confidence in the certification of the products they carry, and assure consumers that they've purchased a legitimate product that meets UL's rigorous safety requirements. If the cable claims UL certification but has no holographic label on the original package, this is often indicative of a fraudulent product.
The 'Go-To' Cable
Liberty's dedication for the last thirty years has earned the trust, respect, and confidence of the largest firms in the Pro AV Industry and made Liberty AV the 'go-to' cable. We take pride in providing products that perform well. Liberty has been the most recognized brand of cabling in the CEDIA and InfoComm AV custom and commercial install channels since 1991.
Liberty's attention to quality, adherence to standards, certifications, and regulatory requirements sets us apart from the competition. Ensuring that our cables are tested, certified, and meet the required specifications are a part of our mission to provide the highest quality of cables that operate safely and at peak performance.
A Quick Summary of the Risks Associated with Counterfeit Cables:
- Poor Network Performance
Fake cables can cause poor network performance and possible damages to equipment which can lead to costly repairs.
- Costly Cable Replacements or Lawsuits
Using counterfeit cables could violate existing code requirements, requiring cable replacement and incurring associated expenses. This can also be considered fraud and result in lawsuits or fines.
In order for a manufacturer to earn the listings from associations such as UL and ETL, the cables must pass a series of stringent flammability tests that are meant to reduce the spread of heavy smoke and fire during an electrical incident. Due to their lower quality material, counterfeit cables may produce more heat, resulting in an increased risk of fire.
Conclusion
Is it worth your company's reputation and exposure to liability to ignore these warning signs and buy the cheapest cable you can? There truly is no such thing as good, cheap category cable. With data networks, home networks, and all this content needing a path demanding huge amounts of bandwidth, why build the road with the cheapest material you can find?
There's a reason for third-party certifications. When purchasing cables, if the price sounds too good to be true, it probably is. You may get some great deals, but the seller won't always admit that the cable is not made of pure copper. The UL Product iQ can be a great tool to verify the authenticity of your cable's certification.
Do it right the first time! All Liberty cables are third-party tested to ensure compliance. With Liberty, you can rest easy knowing that our cables are always tested and certified by both UL and ETL.
If you have any questions about third-party certifications on Liberty AV products, contact your Liberty representative or reach out to our customer support team for more information.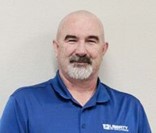 Ralph E. Parrett serves as Director of Quality & Technical Services at Liberty AV Solutions and has been an integral part of Liberty AV for 24 years. Ralph is a U.S. Marine veteran who served in a variety of telecommunications technician military occupational specialties and maintenance management roles. He served for five years at Amphenol Interconnect Products Corp. in the design and production of custom cable assemblies and two years as the Maintenance/Production Supervisor at Skyline Electronics, Inc., a printed circuit board contract manufacturer.