Faulty cables can cost a lot of money and create disruptions. No one enjoys downtimes, delays, or bottlenecked speeds on a new installation. When you're installing a professional network, you want to make sure that your customer is getting the best possible connection.
Several factors can lead to poor performance in communication networks such as bad cabling components or improper wiring installations. When an office building, residence, or university campus is being wired for network access, the quality of the cables should be a major priority.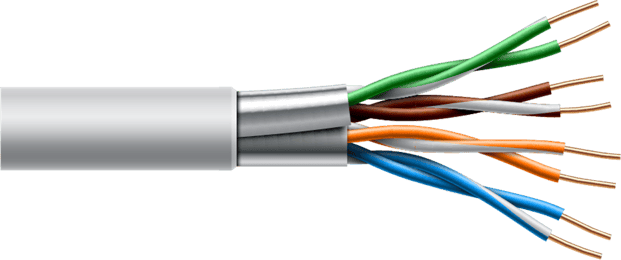 What are Twisted Pair Cables?
Twisted pair cables, also known as category cables or 'cat cables', consist of a pair of copper wires of a single circuit that are literally twisted together. These cables are used to connect a variety of network components, from Ethernet cables, switches, and routers to computers, servers, and other components in a LAN.
The reason that category cables have insulated copper wires twisted together is to help reduce electromagnetic interference (EMI) or "noise." The twisting together of the cables helps prevent unwanted electrical signal interference. Signal interference can happen when cables that are near each other begin to interfere with one another. This happens because a high-frequency signal on a wire creates a magnetic field that can induce signals to cables that are close by. These induced signals are referred to as "crosstalk."
The tighter the cables are twisted together, the more noise reduction. However, this does not mean that twisted pair cables are not susceptible to noise. The high bandwidth capacity and low attenuation make category cables one of the most cost-effective options in comparison to other network options like fiber optic solutions.
Higher Numbers Represent Faster Speeds and Higher Frequencies
As with any new technology, new cables tend to support higher bandwidths, providing faster download speeds and connections. As the cable's category number gets higher, so does the speed and MHz of the wire.
One of the noisiest issues in today's A/V market is the cost of twisted pair cabling. The head-to-head marketing competition that has been ongoing for years has led to some interesting claims and discussions which we will dive into to separate the fancy fluff from the facts.
Don't Let the Fancy Lingo Fool You…
Take a look at the frequency chart below. The left-side column of the chart describes the legitimate certification frequency for each category level. You'll see that Cat 5e has 100 MHz, not 350 MHz. Do you see a frequency of 500 or 550 MHz for Category 6? You don't.
These commonly marketed thresholds have no official meaning per the certification standards. This is simply a marketing trick that tries to differentiate cables from other suppliers. When this practice first came into the market some people talked about Category 5 big "E" and the little "e" – the big "E" meant a frequency of 350 MHz and the little "e" meant a frequency of 100 MHz.
Under the standards of TIA and ISO/IEC – two common standard-developing organizations – only the worst-case performance should be presented for the category cable frequencies. However, once the sweep exceeds the certification threshold, there is no such limitation. This means that manufacturers and distributors are then free to exaggerate a cable's performance at will.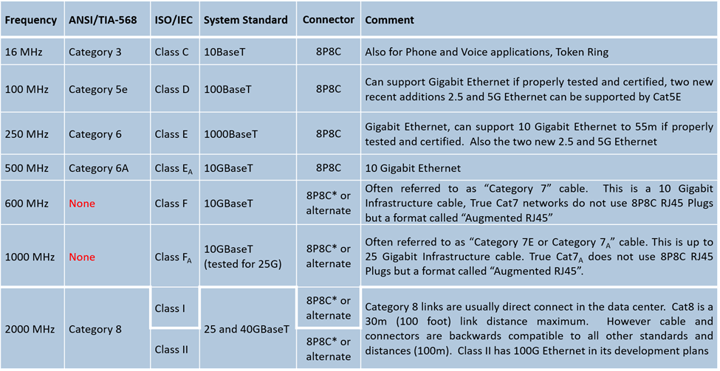 In the U.S. market today, Category 8 is the new top dog. We skipped an official Cat 7 cable. In the European market, Class F and FA, are what we call Category 7 and 7A. Class 7A cable performance and requirements exceed Category 8.1 cables.
How to Distinguish a Better Cable from a Poor One?
Every category cable specification sheet must contain performance numbers for the benchmarks directed by the TIA. Here is an example: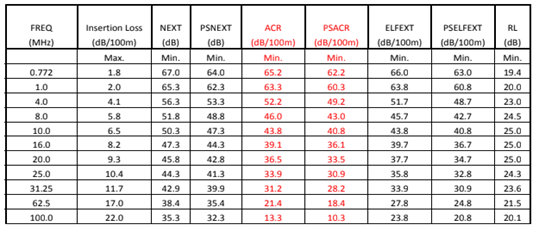 The ACR specification can tell you a good cable from a bad one. "ACR" refers to Attenuation to Crosstalk Ratio — a mathematical calculation where insertion loss is subtracted from crosstalk. This parameter is measured when testing a cable's performance. As long as the ACR number stays positive, you have a signal pipe. If it reaches zero, then the pipe is effectively closed. There are devices that can use negative ACR, but we're talking cables here.
To show superior cable performance, suppliers add a second column to each specification containing their typical cable performance. They must also show the worst-case performance, which is usually the standard itself. This is good for Cat5 E cables and Cat6 cables.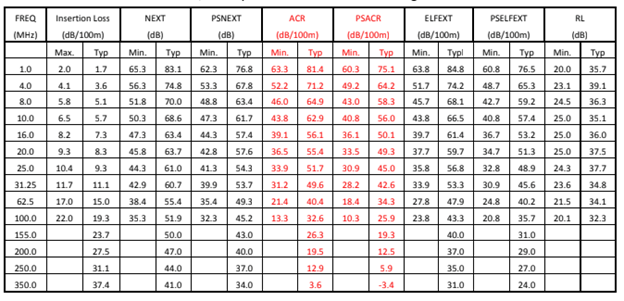 Notice how the cable performance chart above indicates a positive ACR to 350 MHz. This tells you that this is a good Cat 5e cable as few cables can reach this type of performance. The cable that this sweep came from will not be found on a discount website or sold by low-end suppliers. This is how that "350" originated. Sadly, today's most-advertised "350 MHz" cables go negative before reaching 200 MHz.
Non-Certified Cable Posing as Certified Cable
Another issue we find quite often is non‐certified cable posing as certified cable. Under UL and ETL, the two most common third-party certification laboratories, there are stringent testing and validation requirements during the manufacture of the cable to ensure compliance to the performance threshold. You can learn more about this in another blog post.
Both UL and ETL have a file number that must be listed on the cable as traceability to the certification. You can search for this file number in their respective sites to validate the cable as being certified. If your cable is marked as UL Certified, we recommend creating an account with UL Product IQ. This is a directory designed to be a helpful resource for corporate entities, but individual consumers may also access the database for free.
With the UL Product iQ tool, you can easily look up any product's UL file number to verify the certification's authenticity. However, it is best to search by the company name versus the individual file number as UL allows a 'senior' file number to be listed if the company has both. An example is Liberty's E190606 UL file number.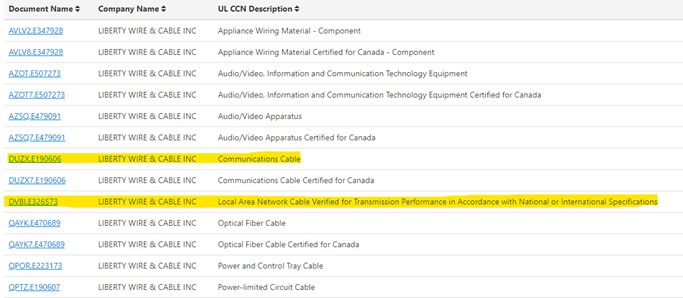 If you look up Liberty Wire & Cable on the UL Product IQ, you will be directed to a page that contains Liberty's UL listings. As you can see in the image above, the E190606 file number is a communications cable listing but says nothing about category cable. However, since the communications listing is senior to the LAN listing, Liberty is allowed to only list that number per UL's published procedures.
As shown above, Liberty Wire & Cable E326573 file number is for the Local Area Network Cable Verified for Transmission Performance program. Therefore, Liberty lists its LAN cables with the E190606 number due to the senior listing, but its LAN cables are certified to the E326573 file – this means that these cables comply with UL standard performance thresholds for LAN cables. Liberty also has ETL files for the same certifications.
Armed with this information, now try looking up some E numbers from cables on the market. You will quickly find many of these companies do not have LAN cable certification. They do have communications cable listings, but no LAN performance listings. Some may have ETL certifications, and if so, there should be a traceable file number on the cable to validate it, or their company name should be listed on ETL's online listing of certified companies.
Additional Indicators of Non‐Certified Cable:
1) Copper Shaving: In an attempt to save money, many companies skimp on copper. Beware of this practice – the minimum diameter permitted by UL in their UL758 standard for Appliance Wiring Material (AWM) is 0.485mm for 24 AWG. It is not uncommon to see cables marked as UL-certified that have 0.475mm or smaller conductor diameter.
2) Holographic Label: To fight counterfeiting, UL changed its labels to a metallic holographic label. If the cable claims UL certification but has no holographic label on the original package, it is a fraudulent product.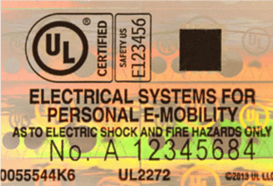 3) The E number does not show up in the UL certification directory: As discussed earlier, make sure to look up the E number that is located on your cable's package to verify its certification. If the number does not trace in the UL directory, you should be concerned.
4) Copper-Clad Aluminum: Under the National Electric Code, CCA conductors are prohibited except for Coaxial cable. UL444 also prohibits CCA with the same exception. It is illegal and its performance is poor. Why take the risk?
Liberty Category Cables are Third-Party Tested to Ensure Compliance
Liberty's cables always meet or exceed the standards set forth by the experts, including Underwriters Laboratory (UL) and Intertek (ETL). Liberty adheres to precise cable specifications defined by UL758. Our attention to quality, and adherence to standards, certifications, and regulatory requirements sets us apart from the competition.
Liberty will never shave copper. All of Liberty's cables are comprised of Oxygen-Free Copper or ASTM annealed copper. Both copper variations are laboratory tested and produce equivalent, solid performance. Mechanical and electrical specs are always re-validated after manufacturing to ensure compliance. Liberty's cable datasheets are always available for review on our website, highlighting all cable specifications.
Liberty's Bulk Cable Boxes Now Come Equipped with Support Space by Teleportivity
Support Space powered by Teleportivity is a virtual portal to detailed instructions, video tutorials, product specifications, ordering, and best practices so you can nail every installation! It gives you on-demand access to Liberty's trusted and knowledgeable tech support team when you need an extra hand — simply scan the barcode with your phone's camera. No app needed.
Support at Day 2 and Beyond!
Liberty AV's knowledgeable team is available beyond the installation, providing tech support at day 2 and beyond. Our knowledgeable team can assist with any installation issues, troubleshooting, and future updates.
Learn More!
Download Liberty's 2020 Cable Guide as we celebrate nearly 30 years of trusted and respected cabling!
Contact your Liberty AV representative or reach out to Liberty's customer support team for more information.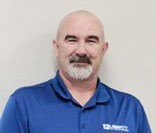 Ralph E. Parrett serves as Director of Quality & Technical Services at Liberty AV Solutions and has been an integral part of Liberty AV for 24 years. Ralph is a U.S. Marine veteran who served in a variety of telecommunications technician military occupational specialties and maintenance management roles. He served for five years at Amphenol Interconnect Products Corp. in the design and production of custom cable assemblies and two years as the Maintenance/Production Supervisor at Skyline Electronics, Inc., a printed circuit board contract manufacturer.