Colorado, CO, August 17, 2020 - Liberty AV recently introduced 'Work from Anywhere' kits – professional desktop solutions designed to provide a seamless remote or in-office workspace. Developed by its sister company, WESCO Broadcast & AV, 'Work from Anywhere' are pre-bundled solutions designed with effortless, supported setup, and reliability in mind. Each pre-configured 'Work from Anywhere' kit includes technology from industry-leading brands such as Logitech, Chief, SurgeX, NEC, Bose Professional, Biamp HRT, Wiremold, and C2G.
Designed to optimize virtual meetings, Work from Anywhere solutions provide quality video and sound with the convenience of hands-free flexibility and are fully compatible with all major web-based video conferencing platforms. Each kit includes live support, offering users instant face-to-face video setup assistance.
Keep the Focus on Work with Standardized, Reliable, Pre-Bundled Kits
- Easy, Plug-and-Play Setup -

Arrives in one package, ready to distribute or setup.

- Quality Components -

Technology from trusted, industry-leading brands.

- System Standardization -

Streamline deployment. All users receive the same products, eliminating equipment guesswork for IT / tech support.

- Live Support -

Instant face-to-face video setup assistance.

- One

Year Warranty -

with 48-hour advanced replacement.

- Service Terms

- extendable and customizable, powered by

Teleportivity

.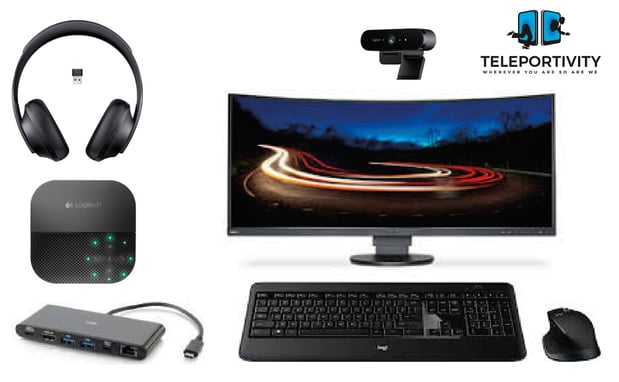 Logitech Bundle – Speakerphones, Bose Wireless Headphones, Wireless Keyboard and Mouse, USB Docking Station, and 34" Ultrawide Monitor (WFHDESK2.1)
Choose from Pre-configured Bundles or Customize Your Own
Multiple pre-configured solutions are available and sold by both Liberty AV and WESCO Broadcast & AV, however, these can be customized to fit your organization's specific needs. All necessary hardware requirements come included in one convenient package – from associate personnel up to senior-level executives, there is a system designed around their needs.
The most basic Work from Anywhere kits provide premium sound and video for users on the go. The (

WFHAUDIO1.1
)
kit
includes a Logitech speaker and wireless headset; the (
WFHAV1.1
) kit includes a Logitech Brio 4K USB Camera i
n addition to

the Logitech speaker and wireless headset.
The Logitech speaker allows you to participate in hands-free calling with echo cancellation which allows you to hear and be heard even in the loudest locations; it features a 15-hour battery life and comes with an integrated stand for your mobile device or tablet and an integrated USB cable. The Logitech wireless headset lets you connect with Bluetooth or with an included USB receiver and features on-ear call controls as well as an adjustable and concealable microphone arm. The Brio 4K USB Camera features 4K video with HDR, compatibility with Windows Hello, 5X digital zoom, and automatic adjustment to lighting conditions.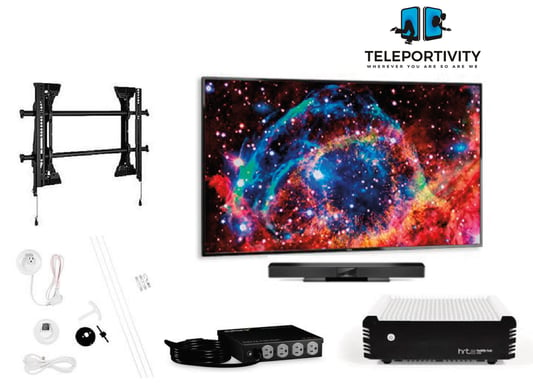 In addition to the speakerphone, wireless headset, and 4K USB camera, the more advanced Work from Anywhere kits include a Logitech wireless keyboard and mouse, a C2G USB docking station, and a NEC desktop monitor. The most basic of these (WFHDESK1.1) includes all the features previously mentioned, plus a 24-inch desktop monitor. The (WFHDESK2.1) kit is an upgrade to the previous 1.1 version as it includes Bose Wireless Headphones and a NEC 34-inch curved desktop monitor.
The (
WFHROOM1.1
)

is designed for executive remote conferencing with BYOD. It includes a BIAMP HRT Huddle Hub that allows users to
wirelessly connect their laptop to a display, camera, microphone and speakers, an NEC 55-inch 4K UHD display, and the Bose Video Conferencing Sound Bar that provides excellent audio quality and features a 4K UHD camera with auto framing and six beam-steering microphones. Additionally, this kit also comes with power protection, mounting equipment, and in-wall cable management from SurgeX, Wiremold, and Chief.
Advanced Tech Support Keeps Workforce Working
Each Work from Anywhere set comes with a Teleportivity Support Space™ barcode that can be scanned using a personal device's camera anytime that technical support is needed. The user simply scans the barcode and is instantly connected to product-specific information such as instructions, video tutorials, product specifications, and troubleshooting, as well as the option to receive on-demand technical support from a Liberty AV support member via chat, voice, or video call. This feature allows us to provide unparalleled customer support while alleviating unnecessary tech support calls, saving time for the end user while eliminating strain on in-house IT resources.
From desk to home and around the globe, work seamlessly with 'Work from Anywhere' solutions...Contact your Liberty AV Solutions representative or download the 'Work from Anywhere' brochure to learn more.