Have USB Extender will Travel! By Intelix & Liberty AV Solutions
Introducing the Intelix USB 2.0 High Speed Extender Set with 4 Port USB Device Hub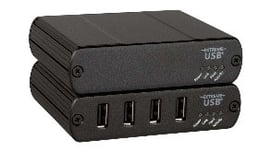 Intelix USB 2.0 High Speed Extender Set with 4 Port USB Device Hub (DIGI-USB2-4P)
In the world of USB, most everything becomes Plug and Play, just connect the USB cable and you're ready to roll… right? Hang tight, not so fast if you want to command attention of a Projector or Printer, and these items are not within distance of what a USB cable can accommodate. Or better yet, you need to connect a Web Camera, and what about that interactive Whiteboard you have been meaning to get together in the Conference room?
Introducing the USB High Speed Extender Set with 4 Port USB Device Hub (DIGI-USB2-4P). The Intelix USB 1.1 & 2.0 High Speed Extender Set with 4 Port USB Device Hub will produce signals up to 100m or 330ft with 4 Ports, where multiple devices can use as a hub. Connecting your Printer, Scanner, Projector, and Whiteboard can be a cinch even supports isochronous data for use of your Web Camera. We make it even simpler with applications that are compatible with all major operating systems and Transparency USB "Plug and Play" so no software drivers are needed.
Liberty AV can optimize the installation of these devices with Premium, Certified, Liberty AV Optical, HDMI and Category cables and our sister company, WESCO Broadcast and AV can provide all of the quality, distributed brands needed to complete your install, including Speakers, Cameras, and more. Ask about our eKitting all of these great components in one, convenient kit for time and cost-savings at the time of deployment.
Every-AV-Thing Connecting Source to Display
Learn more at https://secure.libertycable.com/product_details.php?pitem=DIGI-USB2-4P or Reach out to Liberty AV's knowledgeable customer service team at 800-530-8998 or via orders@libav.com for 'Every-AV-Thing Connecting Source to Display'