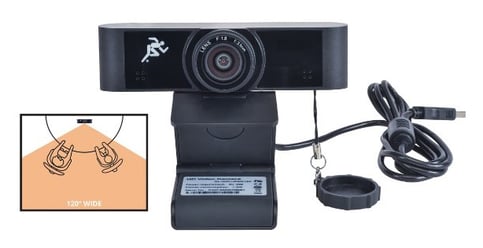 First impressions are everything. So, why not video conference, record polished demos, or conduct a webinar like a pro? All and more is achievable with Liberty AV's "TeamUp+" Series (DL-WFH-CAM120) USB Webcam and Microphone with full HD 120-degree wide-angle video 1920x1080 @ 30 FPS, along with crystal-clear sound using built-in dual noise-reduction microphone arrays.
Ready for more? We give you more standard features on this webcam than the competitors, including a 5-year warranty, upgradable firmware, privacy cover, and auto light detection, for less money.
Easy set-up, plug and play with PC or Mac and Chromebooks, excellent for all major operating systems, and video applications such as Zoom, Teams, and Google Meet. Perfect to 'go live' on YouTube, FaceTime, and other messaging applications. Simple set-up, no drivers or software required. Ideal for home office, classrooms, house of worship, even medium-to-large conference rooms. If you're looking for the camera for personal use, a standard version, featuring a 90-degree field of view, is also available (DL-WFH-CAM90).
Every-AV-Thing Connecting Source to Display
Liberty AV can optimize the installation of these devices with premium, certified, Liberty AV Optical, HDMI, and Category cables and our sister company, WESCO Broadcast and AV can provide all of the quality, distributed brands needed to complete your install, including speakers, cameras, and more. Ask about our eKitting all of these great components in one, convenient kit for time and cost-savings upon deployment.
Learn more about Liberty's "TeamUp+" Series USB Webcam and Mic (120° Ultra Wide-Angle View). Contact your Liberty AV representative or download the brochure for more information!
Liberty AV's knowledgeable customer service team may be reached at 800-530-8998 or via orders@libav.com for 'Every-AV-Thing Connecting Source to Display'.