All-in-one Automatic Hand Sanitizer Dispensing Solutions with Pre-loaded Digital Signage Software
We are all currently facing unprecedented times that will impact and shift our day to day in the future. The 'Novitizer' Automatic Hand Sanitizing Digital Signage Kiosk (NOVI-AHS) is the next logical step for keeping the public safe. Offered by Liberty AV and developed by NoviSign Digital Signage, the Novitizer is the all-in-one solution for organizations to share important information while reducing the spread of germs. While audiences approach your kiosks to sanitize, they will be exposed to your targeted messages.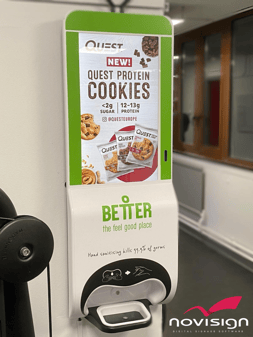 Spread Info... Not Germs
The Novitizer features a sturdy metal enclosure that is designed to withstand public settings, has a built-in commercial grade 21.5" display, and comes equipped with an internal, 1 gallon, auto-dispenser that dispenses gel, foam, or liquid sanitizer (sold separately). Supports WiFi, hardwire or 3/4G connection to the web. Wall mountable or convert to free-standing with optional pedestal sold separately (NOVI-AHS-STD). You can customize your kiosk with PanelCrafters Lexan Overlay. In stock and volume pricing discounts are available!
Includes one-year, pre-installed, NoviSign Digital Signage License. With this easy to use, 'drag and drop', cloud-based digital signage software, you can remotely display, update, and monitor any combination of public announcements, advertisements, videos, slideshows, and media from anywhere in the world!
Perfect for high-traffic public locations such as:
Hospitals, medical clinics, and dentist offices
Grocery and retail stores
Commercial buildings and malls
Gyms and health centers
Hotels and resorts
College campuses and schools
Local government buildings
Remotely Monitor and Preschedule Your Media
Update your content in just one click! All you need is a computer and for the digital signage to be connected to the internet. Easily create, edit and manage the content you want to display with NoviSign's 'drag and drop' cloud-based digital signage software. From anywhere in the world, you can pre-schedule your content to auto-update, set recurring schedules and expiration dates, and update your content. You can also monitor the status of your systems – track the analytics of the hand sanitizer; run a detailed media proof-of-play reports; and get emailed when the dispenser needs a sanitizer refill.
Learn more about the Novitizer on the Liberty AV website. Bulk pricing available, made to order. Reach out to Liberty AV's knowledgeable customer service team for more information at 800-530-8998 or via orders@libav.com for 'Every-AV-Thing Connecting Source to Display'.