Colorado Springs, Colorado — August 25, 2020 — Liberty AV's bulk cable boxes now come equipped with Support Space™, a virtual portal to product-specific information and self-guided resources instantly accessible via any personal device. It provides users with on-demand support from Liberty's trusted and knowledgeable support team any time that additional help is needed during an installation. Support Space™ is a valuable tool for installers because it is designed to speed up installations, reduce failures/downtime, and make reordering a breeze.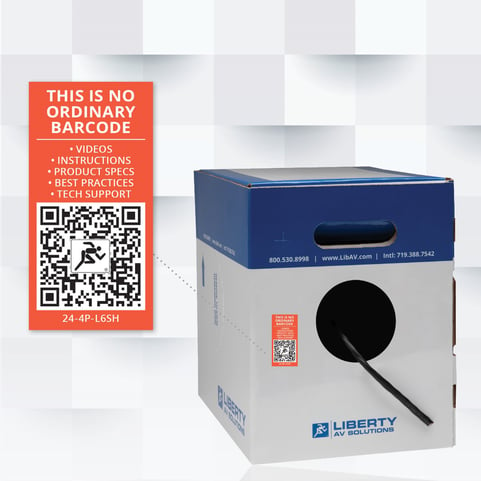 Support Space™ on Liberty's Bulk Cable Boxes
The included Support Space™ feature on Liberty AV's bulk cable boxes becomes an extension of Liberty's trusted support offering. These valuable 'digital portals' or 'intelligent QR codes' powered by Teleportivity, make work easier for installers and provide safety by reducing the need for on-site visits. The user simply scans the barcode located on the bulk cable box with the camera of any personal device and is instantly connected to a menu of options that include product specifications, detailed instructions, video tutorials, FAQ, and the option to request on-demand technical support.
Custom Deployment
Teleportivity Support Space™ is available for custom deployment, wherever help, support, or more information is needed. With Teleportivity, you can create and deploy thousands of easy-to-manage, dynamic digital portals: intelligent QR / NFC / web links that can be placed in any product, space, or object. Through the creation of unique, situation-based mini-sites, customized to reflect any branding and created for the space or situation, the user can access videos, information, PDFs, eCommerce links, system diagrams, maps, and more… whatever the user needs for that space or object. Teleportivity's video applications can also stretch resources over greater distance and replace the need for a physical presence during times of light staffing, remote staffing, or social distancing.
Better Support at No Additional Charge
Teleportivity Support Space™-enabled cable boxes keep you connected with Liberty's knowledgeable support team and give you access to a world of information using the latest in video and information deployment technology. It instantly connects installers to everything from self-guided materials to on-demand live assistance from Liberty AV's technical support team via video, text, voice, or chat. There is no extra charge for Support Space™ on Liberty's products, it's an included part of the 'Liberty Edge' warranty and support.
Contact your Liberty AV representative or call Liberty's customer support team for more information on Support Space™ powered by Teleportivity. Visit Liberty AV Solutions website to learn more.