Unique Break-Away Audio Mode offers Independent Routing of Audio and Video Bringing this Switcher to the Next Level
Liberty AV's here to show you how deep the rabbit-hole goes when it comes to signal routing, announcing an unparalleled family of DigitaLinx HDMI 2.0b 18G Matrix switchers– the DL-HDM44A-H2 and DL-HDM88A-H2. These units provide an exceptional control and deliver the flexibility and stage-setting for future-ready installs.
Let's Talk About the Technical Stuff
This family of matrix switchers deliver HDCP 2.2 support, dominates resolutions up 4K@60Hz 4:4:4 / 8 bit color with static and dynamic HDR output support for each channel, and feature advanced independent EDID management control for each HDMI input as well as an Easy EDID analyzer. Built-in re-clocking circuity ensures the switcher offers the maximum compatibility with all AV devices including today's cable boxes and streaming media players, but is also backwards compatible with sources having older HDMI version chip sets.
After This There is No Turning Back
Uniquely operate in break-away mode with analog and digital audio de-embedding on all outputs, while routing audio and video independent of one another.
Both units support the full HDMI 2.0 spec on all ports including HDR10, HDR10+, and Dolby Vision. Need another driver for your current setup? Not a problem – Savant, Crestron, RTI, Elan, and Control4 drivers are available.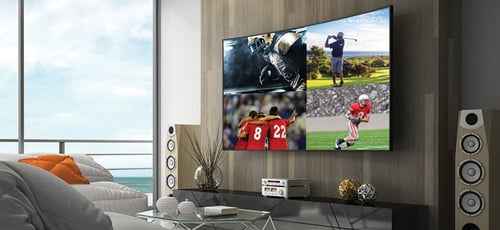 READY FOR ANYTHING: 18G is the future-ready solution for residential, commercial,
houses of worship, and higher education, reaching distances up to 1,000' with fiber pairings.
Ready to be 'Unplugged' for Your Next Support Call?
For maximum flexibility, these switchers offer IR, RS232, TCP/IP, and web based control options allowing for seamless integration with 3rd party control, as well as easy remote monitoring & troubleshooting.
Can All These Features be Within Reach… and Budget?
Yes! Liberty AV is the expert in delivering cutting-edge technology at the best value backed by industry-leading warranties, and the new DigitaLinx HDMI 2.0b 18G Matrix Switchers stays the course at an unbeatable price point.

ALL IN THE FAMILY: Liberty AV's new family of slim design HDMI 2.0 18G extenders
Have a Long-Distance Cable Run?
Digitalinx switchers match perfectly with Liberty AV's all new, slim design HDMI 2.0 18G extenders and will be ready to take you the distance, easily spanning 1,000' with fiber combinations.
Learn more about this new family of matrix extenders on Liberty AV's website. Looking to complete your set up with fiber cables or 18G Extenders? Fret not, as Liberty is equipped to support all of your 18G signal extension needs. Simply our 18G Solutions Page for more information or to review our Comparison Matrix.
Liberty AV's knowledgeable customer service team is always available to assist - for more information, call 800-560-8998 or email orders@libav.com. With everything you need from cables, devices, connectors, and more, it's never been easier to Run with Us!