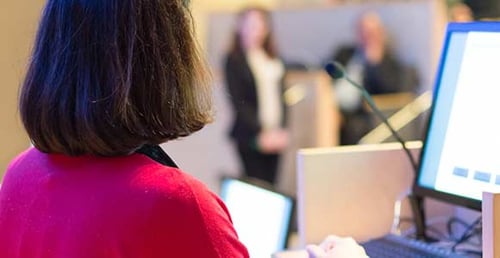 With the convergence of AV and Networking continuing to trend upward, installation of networked AV capture and streaming technology is another opportunity for professional AV integrators to take advantage of.
What is AV Capture, Streaming and Sharing?
AV capture refers to the process of recording and archiving lectures, training, simlab sessions, meetings or any kind of event. Browser based delivery allows anyone to watch it from anywhere, live or on-demand. Hardware and software components work in synergy to support recording, live streaming, and playback of video signals, with redundant storage options.
How does AV Capture, Streaming and Sharing work?
AV capture systems include a suite of software applications with specifications for preferred hardware, which typically consists of items such as a camera and a microphone. These components integrate with AV hardware to capture a lecture, training or meeting. Recordings can be viewed on the web or in formats compatible with MP4 players and portable video devices, either live or on-demand.
Using the web, or what's termed "browser based delivery", means that using a device with IE, Safari, Chrome or Firefox you can view generated content in the same way that you view Netflix and YouTube content…again, live or on-demand. You can also control the system over your network. AV Transport, switching, storage, and delivery are all executed across IP enabled networks (Internet, LAN, VLAN, cloud virtualization).
What Markets Need AV Capture, Streaming and Sharing?
Many schools and universities are implementing these systems to provide students with greater convenience if they miss class or simply want to catch up on course content. As an additional benefit, captured lectures often form part of online or blended course development.
AV capture systems are also popular in health and medical programs, possibly because medical training often involves demonstrations that cannot be easily repeated.
Corporate conference rooms and houses of worship are also popular environments for AV capture technology.
Why AV Capture, Streaming and Sharing matter to the AV Professional?
This technology opens up AV installation opportunities for integrators already working in the areas just mentioned. You can now offer an easy to implement, end-to-end solution for acquisition and delivery of rich or simple AV media over any network. This is a completely scalable and solidly economical technology.
But opportunities like this require proper planning, expertise and the right products to be successful. Liberty AV Solutions works with AV professionals and industry-leading technology partners to develop rock solid, cost effective solutions that can help you maximize your AV capture installation.