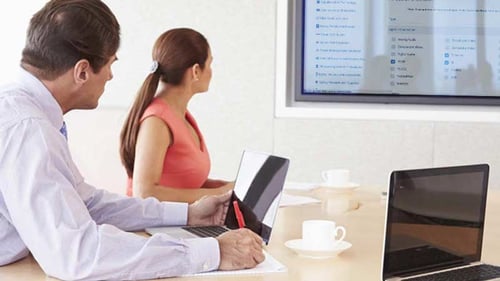 Huddle rooms are one of the hottest trends in the AV industry today. Wainhouse Research estimates the potential for huddle rooms to be between 30 and 50 million rooms. As a professional integrator, you can provide great benefit to your customers by educating them on the flexibility and cost effectiveness of huddle rooms.
What are Huddle Rooms?
Huddle rooms can be defined as any small conference or meeting space, usually equipped with audio, video and a display system. While these are not replacing larger conference or boardrooms, huddle rooms augment those areas by allowing for quick and easy collaboration by small groups at any time.
Why are Huddle Rooms so popular?
Because of their smaller footprint, the equipment needed for one or several huddle rooms is much less expensive than outfitting a large technology-blown conference room. This is a major plus that many corporate and educational facilities are taking advantage of now.
What goes into a huddle room? Several flexible and convenient options exist to make collaboration simple, timely and effective. AV needs will vary depending on the needs of the company, but some common elements include:
A large display or small projector
AV connectivity between table devices or BYOD, and display
Camera for remote collaboration (optional)
Internet connectivity
Opportunities like this require proper planning, expertise and breadth of product to be successful. Liberty AV Solutions has worked with AV professionals to develop rock solid, cost effective solutions so that you can reap the maximum potential out of any huddle room installation.
Why should this matter to the AV Professional?
Huddle rooms stand to be the number one way to make money in AV in 2016. These flexible and affordable meeting spaces are a great opportunity to offer increased productivity and effectiveness for your customers. If you aren't already preaching the benefits of huddle rooms to your customers, start now.