Here's the skinny: The DigitaLinx DL-S41-H2 is a slimline HDMI 2.0b auto switcher featuring four HDMI video inputs and one HDMI output, able to support resolutions up to 4k@60Hz, 4:4:4, HDR, 8 bit deep color, and multi-channel audio.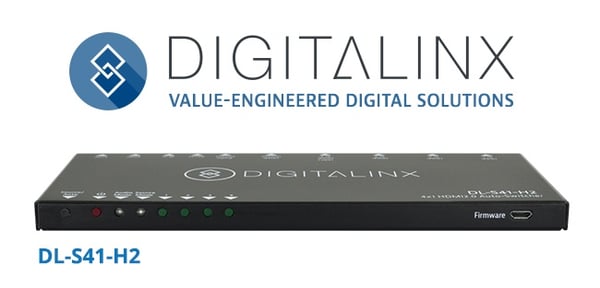 In addition to passing EDID information from the display, the DigitaLinx DL-S41-H2 features multiple built-in EDID settings to simplify an installation. The switcher will de-embed digital stereo audio to provide an analog audio source for an existing audio system. The switcher also supports audio return channel (ARC) for transmitting audio back to HDMI input and audio output ports from display device.
When in auto-switch mode, the switcher will switch to an HDMI input as soon as a new source is connected. When the active source is removed, the switcher will select the first source on the lowest numbered input. The switcher may also be controlled via RS232, IR with the included remote, or from the source button on the front of the switcher.
These big features are not easy to hide, but this device is – with a super thin design (only 0.5" tall!) you can fit the DigitaLinx DL-S41-H2 anywhere. This device is perfect for residential, home theater, conference spaces, training rooms, and classrooms. Couple the DL-S41-H2 with our High Speed HDMI Cables with Ethernet Certified 18G to complete your install.
Learn more at https://secure.libertycable.com/product_details.php?pitem=DL-S41-H2 or give Liberty AV's knowledgeable customer service team a call 800-560-8998 or reach out via orders@libav.com for more information.