Liberty AV Solutions is pleased to announce that, effective January 1st, 2021, we will be handling all U.S. distribution orders for Sennheiser products. This introduction
fully complements Liberty AV's growing product offering while providing our integrator partners
with an easier
pathway to Sennheiser's comprehensive pro AV solutions, in addition to providing the advantages of further vendor consolidation.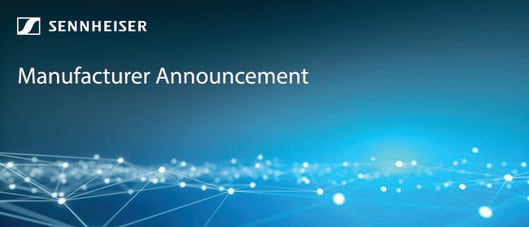 We would like to take the opportunity to clarify that the previous communication on Sennheiser distribution was sent on behalf of Liberty AV solutions, not on behalf of the manufacturer, as an update to our integrator partners.
This introduction fully complements our growing product offering while providing our integrator partners with an easier pathway to Sennheiser's comprehensive pro AV solutions, in addition to providing the advantages of further vendor consolidation.

Founded in 1945, Sennheiser is one of the world's leading manufacturers of headphones, microphones, and wireless transmission systems. Shaping the future of audio and creating unique sound experiences for customers is the aim that unites Sennheiser employees and partners worldwide. With 21 sales subsidiaries and long-established trading partners, the company is active in more than 50 countries and operates its own production facilities in Germany, Ireland, Romania, and the U.S.
Sennheiser's Extensive Product Offering Includes:
- Meeting Systems - Microphones, including:

- Conference Systems - Conferencing

- Audio Streaming - Camera

- Office Headsets - Headset

- 3D Audio - Instrument

- Digital 6000 - Lavalier

- Evolution Wireless G4 - Studio

- Studio Headphones - AMBEO
- Vocal
View the Sennheiser product offering on our website.
Don't see the Sennheiser product you're looking for?
View more products on the Sennheiser website and contact your Liberty AV team to quote / order.
Paving the Way for a More Benefits:
This new distribution agreement paves the way for many benefits for our integrators and distributor partners. Among these new advantages are:
Stocking of the full line of Sennheiser products in five regional warehouses across the U.S. with will-call and same-day delivery (50-mile radius) services available on inventory items.

Logistical competitiveness from regional warehouses and negotiated rates.

Access to Liberty Inventory Services (LIS), a U.S. consignment program to allow integrators and contractors to have product in-house as needed with potentially free shipping.

Market-experienced and knowledgeable sales representatives supported by product managers and support teams – (13 outside, and 30 inside).

Huge selection of leading brands and products to consolidate purchasing and improve operational efficiency and costs of product acquisition.

eKitting program, assembling your installation in one easy-to-deploy shipment.

Prices consistent with direct pricing.

Managed services opportunities.

Access to Liberty's continuing education through webinars and training.

Online order tracking.


Ordering & Pricing:

Existing Customers
If you have an existing account with Liberty AV Solutions, order as you have previously.

If You Do Not Have an Existing Liberty AV Account
Submit an application to become a dealer here:

https://secure.libertycable.com/user-new-registration-form.php

.

A team member will reach out to you within 24 hours.

Current Pricing: Download the

current Sennheiser price list here

.
Liberty AV is here to assist you, our channel partners, in building a profitable and competitive business and we look forward to supporting you.
Contact your Liberty AV representative for more information or reach out to our customer support team.