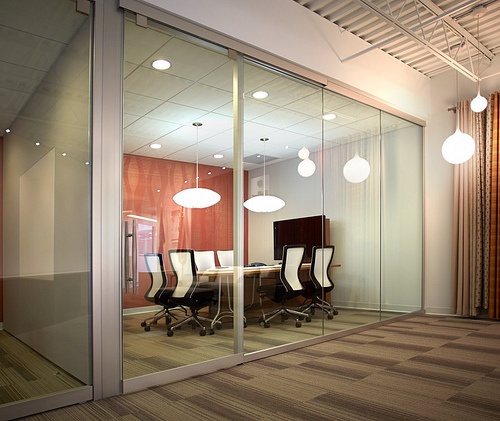 New trends in Technology and evolving business needs are leading organizations to retrofit their conference rooms. They are converting them from mere meeting rooms to workplaces of the future. These new technologies in conference venues lead to the current effectiveness of today's meetings. Let us take a look at five of the most relevant technologies which makes your workplace future ready.
HD Videoconferencing Technology
The current business culture thrives on collaboration. This creates a new challenge. How do you maintain a proper balance between managing costs and delivering effective results? Equipping your conference rooms with effective HD Videoconferencing Technology makes this possible. High Definition videoconferencing is a perfect way to establish clear eye contact with your team. Members in different locations will feel as if they are in the same room because of the clarity of sound, picture, and content. That is precisely what today's technology aims to achieve.
By reducing bandwidth cost and minimizing your TCO, this technology gives you the maximum ROI. The solution takes collaboration efforts to a completely new level. It enables you to leverage its full benefits.
Enriched AV Systems
As technology advances, consumers want to try out these enhancements and experience better results. BYOT is the accepted norm in all meetings. Equipping your conference room to support this is essential. Multi-format switcher and video scalers address this critical need. These devices support input sources like HDMI, VGA, HDBaseT, DVI, and a host of other analog inputs. This enables you to be prepared to plug into a wide range of AV presentation system sources. This ensures you experience excellent audio and video quality.
Smart Whiteboards
The Whiteboard has always been a favorite at business meetings to explain ideas and share content. Technology advancements are making whiteboards smarter, thereby lending added value to your conferences. Whiteboards are interactive and operated through touch. They easily plug into your laptop and share with your team over the web, no matter their location. Equipped with a host of ever evolving technical innovations, this helps you make better decisions for your business, and is an asset needed in your conference room.
Content Sharing Devices
Sharing content is the chief aim of collaboration. All successful businesses want to introduce devices that help augment that goal. Though used largely for entertainment purposes, they also effectively serve your business needs. A plethora of content sharing devices are now available. These easily plug into your laptop or desktop, displaying content on a larger screen to a wide audience. Organizations are also leveraging the benefits of cloud technology. They connect to their businesses globally with hassle-free installation and at little cost. Document sharing is also key. Whatever application or software your office prefers, Google Doc or Office 365 for example, real time chat and editing options help to ensure that everyone on your team is up to date with the latest information. Document sharing can also include those who are not available for the in-person meeting, to be gone over at a later date.
Advanced Audio Solutions
Perfect audio quality is important in helping you hold successful meetings, whether through video conferencing, webinars, or conference calling. Most audio solution devices help you build evolved communication systems. They reduce echo and offer excellent voice clarity. These devices easily integrate into your existing systems and are compatible with almost any type of room.
The advancement of technology has organizations remodeling the ways they wish to do business. Remodeled conference rooms are now collaboration rooms. Equip your conference rooms with the required technologies to be ready to take on the future.
Photo Credit: Wall Guru via Compfight cc