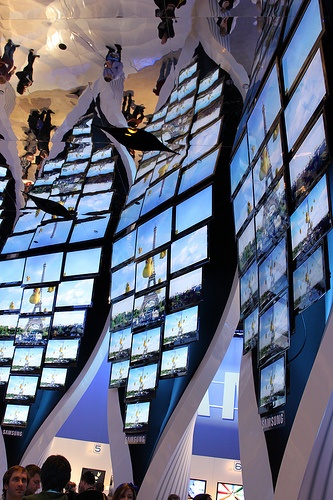 High Definition (HD), Super HD and finally Ultra HD - they all exist. The question is where do we go from here? As viewing quality exponentially grows, are we heading towards a point where our eyes will stop discerning all these extra pixels?
Technology evolves at a rapid pace. With mobile devices becoming the first-screen, users are demanding higher definition, especially in terms of video quality. Driven by such demands, new gadgets like 4K tablet computers and iMac computers with a 5K Retina display are making high-resolution a reality for large and small screen environments.
Video streaming: Pushing the case for HD in mobile
Today, HD technology for smaller screens is the focal point of marketing pitches for these devices. The idea is that users should be able to watch a live telecast or a Netflix show on their mobile device as smoothly and at the quality they're used to from their laptops and TV sets. As such, manufacturers are trying to go beyond the standard resolution for mobile devices, known as QHD or Quarter High Definition. Growing over the past few years, video streaming is now an alternative to cable or satellite TV as more consumers choose to "cut the cord," and more businesses adopt cloud computing and video conferencing. As a result, service providers upgrade their network capabilities to improve the viewing experience of their customers. This is one of the main reasons why mobile devices with HD picture quality and higher resolution are more likely to win the buyer's vote.
HD makes video communication more life-like
Mobile technologies eliminate the need to sit in front of large screens for business communication. With remote working and Bring Your Own Device (BYOD) contributing significantly to enterprise mobility, employees are becoming increasingly dispersed, requiring better collaboration solutions. HD video, with its crisper image quality, replicates real-life communication. If you have the right apps in your HD enabled smartphone, having a high-quality video chat with your team is easily done from anywhere and anytime.
The challenges
While HDTVs already have proven high quality video delivers a prime viewing experience, the journey is just beginning for mobile HD. However, the biggest challenge in adopting HD for mobile devices is that high definition quality largely depends on screen size. For smaller screen sizes, our ability to distinguish between HD, Super HD, and Ultra-HD is largely diminished. Until we have better technology to offer immersive viewing experiences on small-screen devices, a better solution to this challenge is connecting your mobile device to high quality cable and interface equipment. For now, this may be the key to experience full HD capabilities in mobile.
Mobile devices and smartphones are creeping into a field where expectations are set by HDTVs. Will these devices survive a tech upgrade or will they be just another trend? Whatever their fate, one thing is for sure: We still have to wait before HD capabilities in mobile devices start making a vast difference in our viewing experiences, or our purchasing decisions.
Photo Credit: theqspeaks via Compfight cc