Liberty Blog
Stay on top of

Future proofing made simple! Introducing the Liberty AV Branded Cat 8 Shielded Cable
Liberty AV Solutions has the answer to the increasing need for more bandwidth, speed and HDBaseT transmission up to 100 meters. Introducing our Category 8 (24-4P-L8SH-BLU). Shielded cable. Future proofing is a cinch for any AV or Datacenter application.
Read More
Topics: category cable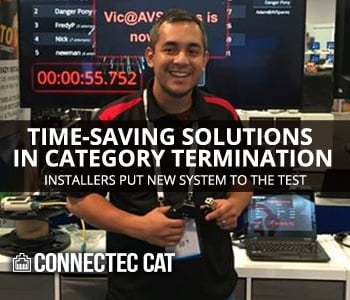 Liberty AV Solutions, known for their innovative solutions driven by user feedback, has once again delivered an industry changer.
Debuting at InfoComm 2018 earlier this year, Liberty AV released the new category cable termination system, ConnecTec Cat (CT Cat) . Received with open arms by technicians and installers alike, the system tackles common complaints and instantly delivers a cost and time savings to cable termination process.
Read More
Topics: AV Integration,, LAN sharing, category cable, cat 6, cat 6a, cat 7, cat 8, cat 5e, HDBaseT, Networking, IoT, AV Innovation, Data Centers, Keystone Inserts, Cable Termination