New Intelix series USB 3.2 extenders are the only high-performance USB 3 extension solutions capable of extending all USB 3.2, 2.0 and 1.1 devices simultaneously up to 100 meters over CAT 6A/7.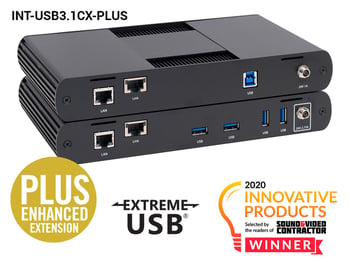 Incorporate just the right amount of extension into the installation
Intelix series USB 3.x extenders provide high performance with two options to choose from, delivering the flexibility to design based on the technical requirements of the install. Choose standard features or the enhanced 'plus' version for expanded extension capabilities.
Extreme USB®

Both devices utilize Icron's Extreme USB®, a patented technology platform and the gold standard for extending USB over long distances over a range of transmission media.

Two Extension Options to Choose From:
USB 3.2 Backward-Compatible Extender Set (INT-USB3.1CX)
Extends USB 3.2 Gen 1 up to 100m over Cat6A / 7. Backward-compatible to 3.x, 2.0; 1.1 transfer speeds with a 4-port hub for multiple connected peripherals.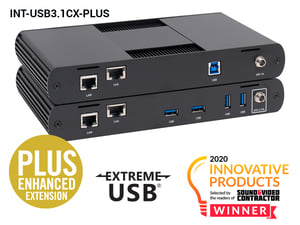 Enhanced "PLUS" Isochronous (ISO) Extension: USB 3.2 Backward-Compatible Extender Set (INT-USB3.1CX-PLUS)
Our award-winning extender includes the same features as standard version, PLUS supports high-quality USB 3.2 Gen 1 Isochronous data transfer required for many 4K cameras, video converters, and high-quality HDMI capture devices. Works with Google Meets.
Which Extender Will Meet Your Installation Needs?
Download the Comparison Chart
Choose the right extender for the installation. Download our USB 3.x extension flyer for a full, device comparison chart on compatibility, UCC applications.
Have additional questions? Our Liberty AV representative team is ready to assist.
Growing in Popularity, Isochronous (ISO) Transfer Improves Deliver of Data
Learn More in This Excerpt from Our Recent Webinar
In our recent technical webinar, Designing, Deploying, & Troubleshooting Advanced USB Systems Tavis Sparrow of Icron covered all the key technical questions surrounding USB, including bulk vs. ISO transfer.
Learn more about isochronous data in this webinar excerpt: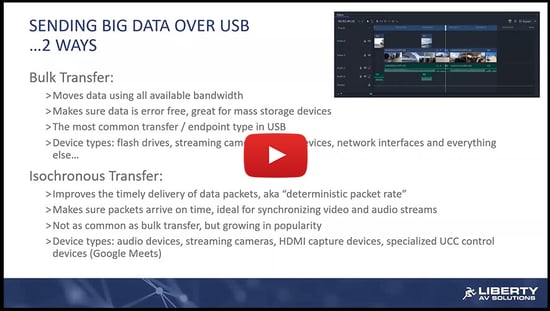 Every-AV-Thing Connecting Source to Display
Liberty AV can optimize the installation of these devices with premium, certified, Liberty AV Optical, HDMI and Category cables and our sister company, WESCO Broadcast and AV can provide all of the quality, distributed brands needed to complete your install, including speakers, digital displays, and more. Ask us about eKitting all of these great components in one, convenient kit for time and cost-savings at the time of deployment.
Reach out to Liberty AV's knowledgeable customer service team at 800-530-8998 or via orders@libav.com.