Make Yourself Heard
Make a 360-degree difference in conferencing with the Liberty AV "TeamUp+" Series USB Omnidirectional Boundary Microphone (DL-USB-360MIC)
Part of the TeamUp+ Series, the 360MIC was designed to sense out high-quality sound (acoustic energy) from any direction and convert the audio into USB allowing for a seamless connection to your computer. Since the 360MIC is UVC compliant, no drivers or additional downloads are required, allowing for a painless experience when using Windows or Mac operating systems. The series brings a contemporary style that compliments any setting and can easily be positioned for different scenarios.
Introducing the "TeamUp+" Series USB Omnidirectional Boundary Microphone by Liberty AV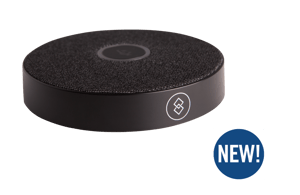 "TeamUp+" Series USB and Analog Boundary Microphone (360° Omnidirectional) DL-USB-360MIC
Ensure your voice is heard regardless of where you are seated within 4 meter range. Conveniently built-in LED illuminated button, Green light: working mode; Red light: mute mode. Complete your install with 5 meter USB cord or 3.5 mm jack for connectivity included.
Your voice matters. That's why we are creating the right products for your space to conduct meetings, interviews, podcasting and home-studio recording. This versatile product is an excellent choice to use with YouTube, Skype, FaceTime and all backed by a 5 year warrantee.
Every-AV-Thing Connecting Source to Display
Liberty AV can optimize the installation of these devices with premium, certified, Liberty AV Optical, HDMI and Category cables and our sister company, WESCO Broadcast and AV can provide all of the quality, distributed brands needed to complete your install, including speakers, digital displays, and more. Ask about our eKitting all of these great components in one, convenient kit for time and cost-savings at the time of deployment.
Learn more on the 360 MIC product page. Reach out to Liberty AV's knowledgeable customer service team at 800-530-8998 or via orders@libav.com.